A recurring theme all day long with most drivers was that Fontana was the first "real race" of the season.   Daytona is a track unto itself and the drivers think they are taken out of the equation.  They run wide open at Daytona – never let off the gas and the race comes down the jobs done by the team back in the garage.
When teams arrive in California – they face the first test in the new season on a track that is similar to the tracks they will run throughout the season.  Drivers have to let off the gas – use the brakes and find different lines as the track changes.   While Daytona outcomes depend on the set-up's -  the outcome in Fontana is dependant upon the drivers ability………. it is the first chance of the season for drivers to earn their keep.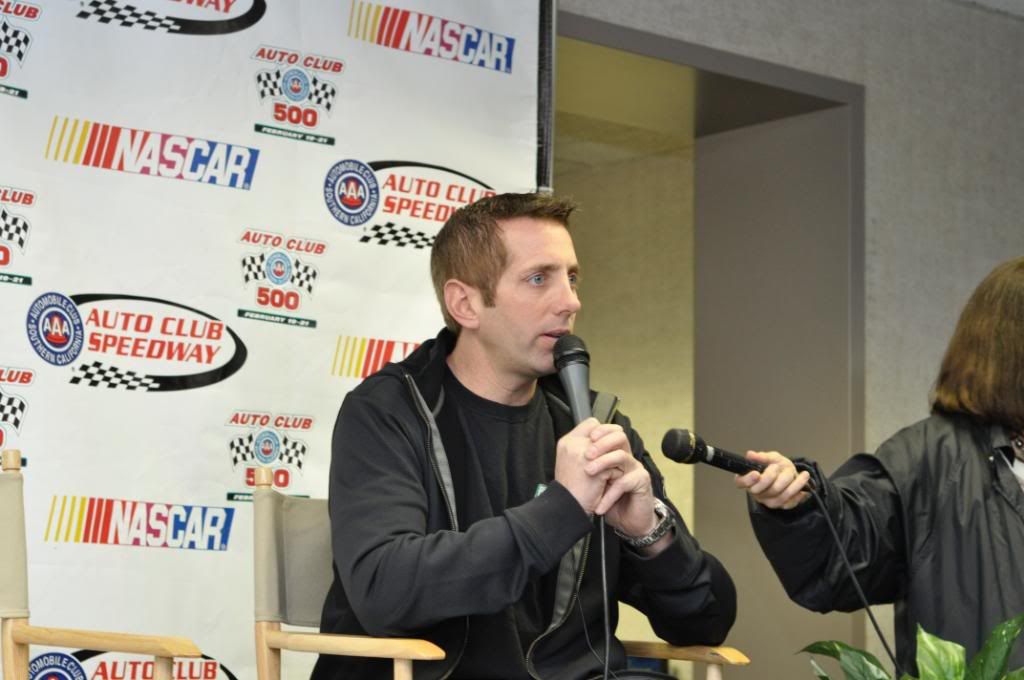 Here are a few notables from the day in the press center:
Greg Biffle said that "Clean Air is really important here – there really isn't any drafting."  When asked about the secret to his success at this track he said, "I have no idea."  He also called Daytona an Anomaly – "this place is more similar to others we run."    He was asked about his team collaborating with Richard Petty Motorsports – basically since his stuff is stronger – why would he want to use their stuff.   Greg said it was a matter of sharing set-ups.  "One week we both can run Kasey's front suspension set-up and our rear set-up and we both wind up better than we did on our own.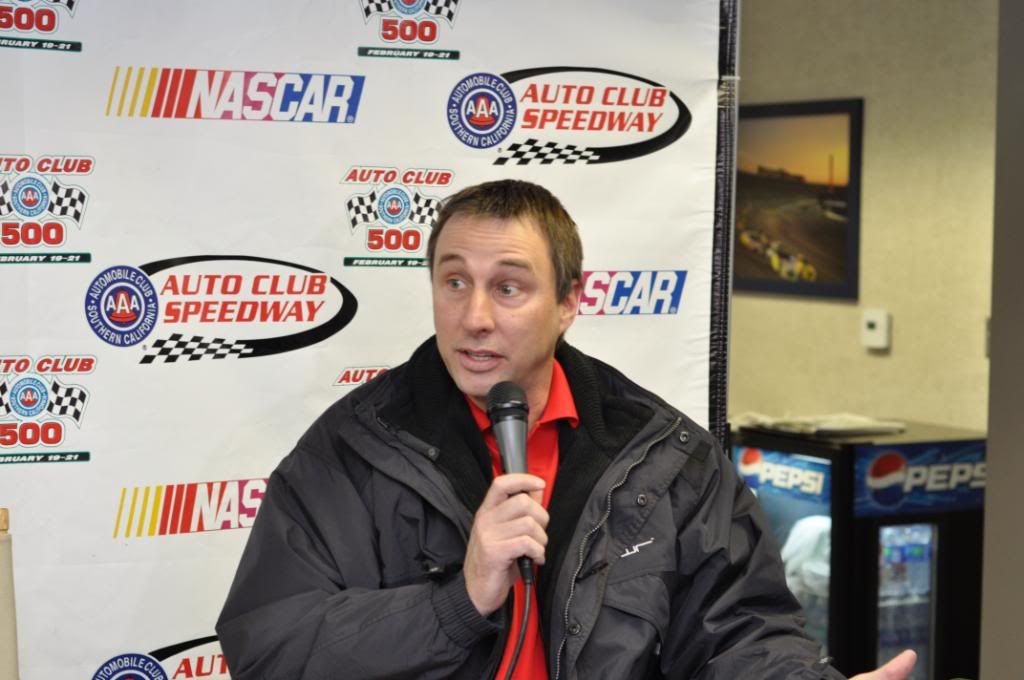 David Reutimann  says he tends to get himself into trouble at this track. "Fontana has been hit or miss for us,"  this place shows "how well you prepared in the off season."   He said he blames himself and not the car here by "making the track harder than it needs to be."  He said he can over-think it at times and he just needs to focus and do the job he knows he can.  In Nascar, David said, "You are only as good as your last race."
Tony Stewart says his team is still on a learning curve at this track and they are still trying to figure out how to tame it.  "This place is so temperature sensitive," the teams ability to make changes mid-race is more important here than other places.  Tony said when he qualifies in Daytona – he simply runs wide open; never using the brakes once.   "But here – you have to use the brakes, you have to let-up on the pedal to find the fastest way around."
When asked if he is prepared for the race next week in Vegas – he called LMVS a "cookie-cutter mile and half;  just like all the others," so his team had their set-ups in place for those tracks.  Tony was also asked why he does not twitter – "I am too busy being productive everyday – and I don't have time to tell the world what I am doing every minute."
Most of the questions Carl took were about his baby – due literally at any moment.  Carl said his plane was fueled up and the contingency plans (Eric Darnell as back-up driver) are in place to get him home when the call comes.   I got to ask Carl about his focus in the car,  is he able to block out the baby-thoughts and focus on his driving.  He said, "I probably should not admit this,  but NO."  He is able to block all of the pressure and focus on driving.  Last week, as he climbed out of the car,  a reporter asked him if there was any baby news – he said he was like, "Oh Yeah, lemme go check."   Oh and BACK-FLIPS are back on the menu if he goes to Victory Lane.
Carl actually giggled when he heard the name of my site – but to his credit he could not have seen "that" coming and he did recover quickly – I have posted the video as well.  I am going to try and track Carl down today and ask if he was giggling at the name of my site – or my name; Michael Myers.
Danica, Danica, Danica!  While most drivers only attracted a handful of media for their pressers – the room really filled up when Danica came to the stage.   She came off as very real to me – she challenged a few reporters with badly worded and thought out questions…… ala Tony Stewart – I loved it.   I wanted to ask her this question, "Danica, how do you feel about Tiger Woods having his press conference today – distracting from your 2nd practice;  he is SUCH a media hog! "   There were simply too many reporters in the room with their hands raised and they did not get to me.
She did talk about not being happy with the car – but she is so fresh that she is not even sure what she wants in the car.   "I will know it when I feel it, and I have not felt it yet.   Having something under you that you can believe in – a car that you can put anywhere that you want to" is what she is looking for and JR. Motorsports and she have not found it yet – at least for this track.
Danica has run Indy Cars at this track – but she said it is so different that nothing translates to the stock car.   "I just run the white line in an Indy Car" – saying it was much easier to drive than her Go Daddy Stock Car.
She did show some humor when talking about her appearance on the Jimmy Kimmel Show Thursday Night, "I am still washing off the eye make-up."
She also joked that she was trying to learn if bumping was a "good thing."  She watched the Daytona 500 and after Jamie McMurray won – she said it looked like some of the other drivers came up and bumped him on the cool down lap.  "Is that like a pat on the butt?  Is bumping a good thing?"
As she was walking out of the media center Danica bent down to pet a small dog – I had the wrong lense to catch the pup,  but the pic of Danica was good enough to share.